How to get pastel hair colour – These fashionable hair dyes will turn pre-lightened hair into a choice of bright pastel colours
How to get Pastel Hair Colour – Smart Pastels was highly commended in the prestigious Pure Beauty Awards, 'best hair colour' category 2013. With a colour range totally unique to Smart Beauty, the pastel hair colour kits are revolutionizing home hair colour. The hair colour kits are packaged with full instructions so you can create successful full hair pastels or creative multicoloured effects at home. The pastel hair colours are developed to achieve subtle pastel semi-permanent colour on natural very light blonde or pre-lightened hair.
APPLYING SMART BEAUTY PASTEL HAIR COLOUR to Natural Light Blondes & Pre-lightened hair For application onto clean, dry hair only, always wear protective gloves.
For best results Smart Beauty Pastel Hair Dye must be applied to natural very light blonde or pre-lightened hair. This can be achieved by using Smart Beauty Bleach-it hair lightener.
APPLICATION PREPARATION FOR PASTEL HAIR COLOUR
• Before applying Smart Pastel Semi-permanent hair colour, wash your hair thoroughly with a clarifying shampoo and dry completely with a hairdryer. DO NOT USE a conditioner or styling products as Smart Beauty Pastel Hair Colour must be applied to clean, dry hair to achieve the best results. • Cover and protect any clothing or nearby furnishings with old towels to prevent hair colour staining • Wear the protective gloves provided, this will stop your hands from being stained • Apply petroleum jelly to your ears and the skin around your hairline to protect it from staining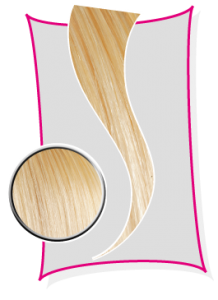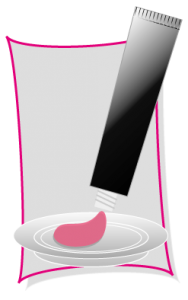 PASTEL HAIR COLOUR STRAIGHT FROM THE TUBE
• Handle with care, this product will stain skin, fabrics and most surfaces • The pastel hair colour is ready to use and does not require mixing • This product can be resealed, stored and used to refresh your hair colour
PASTEL HAIR COLOUR APPLICATION
• Part your hair into 4 sections; front-to-back and ear-to-ear (as shown in the diagram)how to get pastel hair colour step 3a how to get pastel hair colour step 3• Use one half of the Smart Pastel Hair Colour tube for sections 1-2 and the second half for sections 3-4 • Using the application brush, start with section 1 at the back, applying the hair dye from root to tip ensuring that you avoid excessive scalp contact. At this point, you may want to consider using the help of a reliable friend • Repeat the process with sections 2, 3 and 4 until the whole head is completely covered with hair colour • Ask your reliable friend to check that you have not missed any areas. If you have, ensure these are covered immediately • Loosely cover your hair with cling film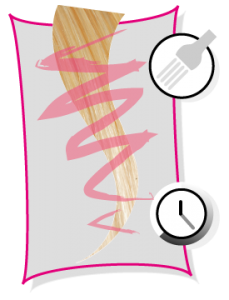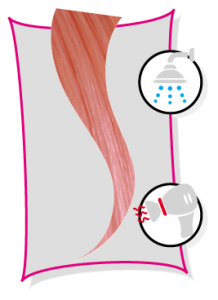 RINSE, DRY AND STYLE
• Once the development time has been reached, remove the cling film
• Carefully rinse the hair with cool water until the water runs clear, avoid the risk of staining surrounding untreated hair
• Smart Pastel Hair Colour contains a conditioning base so there is no need to use any shampoo or conditioner
• Dry and style hair as normal
PASTEL HAIR COLOUR AFTERCARE
• Applied hair colour will fade. To reduce fading choose a good conditioning shampoo designed for coloured hair. Avoid acidic, fruity, 2 in 1's or anti-dandruff shampoo
• To refresh the pastel hair colour simply wash your hair with a clarifying shampoo and dry completely. Protect skin, clothing and furnishings as before and repeat steps 2, 3 and 4
• When you are ready to try another look just find yourself a really good clarifying or cleansing shampoo and this will help remove the Smart Pastel Colour and then apply an all-over hair colour