IN 2020 AT-HOME HAIR COLOURING MAY HAVE BECOME A PART OF YOUR NEW NORMAL. DID YOU WANT TO MASTER THE DIY BLONDE HAIR COLOUR BUT WERE WORRIED ABOUT QUALITY OR SCARED OF DAMAGING YOUR HAIR?
Well, we now have a product to hit all of your blonde hair goals, from grey coverage to brightening up your faded colour, while also being completely safe for your hair. How is that possible? Smart Blonde+Plex is our first blonde range with added Smart Plex Anti-Breakage formulation. It's blended into our hair dyes to protect your already tired hair from damage during colouring. Just like salon professional lightener, Smart Blonde+Plex treats and tones your hair at the same time. You can now safely enjoy four of the trendiest blonde shades – Platinum Blonde, Ash Blonde, Creamy Blonde and Summer Blonde.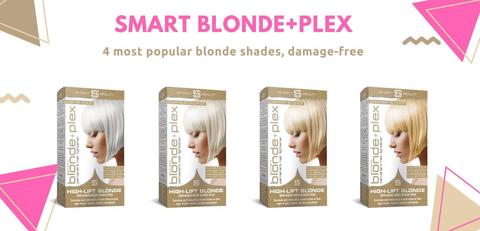 'THE SINGLE MOST IMPORTANT DEVELOPMENT IN HAIR COLOUR'

Smart Plex is an accessible and affordable alternative to salon. Just like Olaplex, that's used by celebrities and professional hairstylists, Smart Plex also rebuilds the micro-bond fibre structure of your hair. Apart from colouring your hair, it also makes it more nourished, healthier and stronger. 
Smart Blonde+Plex provides 100% grey coverage. And those shades are so pretty, they will instantly make you feel and look younger. We particularly recommend Smart Blonde Platinum as a solution to blend or cover grey, silver or thinning hair. So even if your hair is thin and fragile, this blonde range won't break them. Besides, it will do quite the opposite – the Plex formula will restore your hair strength, suppleness and volume.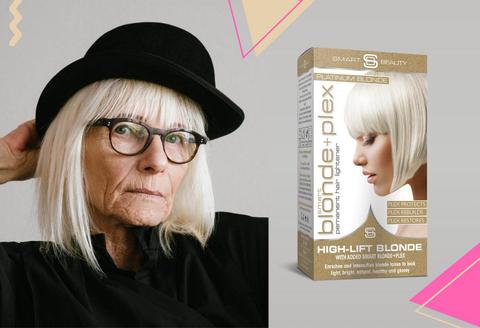 If you don't have grey hair and just want to rock the platinum blonde trend, Smart Blonde+Plex will tick all of the boxes too. It will make your hair brighter, softer and glossier, just like Kylie Jenners when she embraced the icy blonde hair trend.

THE PERFECT BLONDE COLOUR IS NOT THE ONE THAT'S DONE IN THE SALON, BUT THE ONE THAT'S DONE RIGHT
Smart Blonde+Plex hair dyes will lift up to 4 shades. Please note that to get a perfect Platinum or Ash colour, your hair should be naturally light or medium blonde. If you have black or dark brown hair and use this product, you will get a medium dark brown hair. So to go blonde from brown and achieve the shades shown on the box, you will need to lighten your hair first. We advise that you bleach your dark brown or black hair in multiple sessions to maintain its structure and health. 
Do a patch test 48 hours before dyeing your hair. Why? Although we meet all EU/UK Cosmetic Directives' rules and regulations, your body is unique and you never know how it will react to any of the ingredients.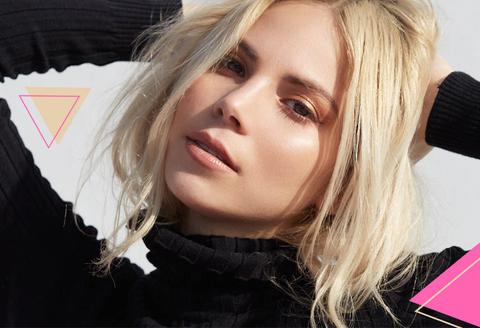 HOW TO DYE YOUR HAIR BLONDE AT HOME. STEP-BY-STEP TUTORIAL.

What's in the box: 50ml of permanent blonde hair colour with added Smart Plex, a 100ml bottle of Smart Colour activator cream, a pair of protective gloves and an illustrated step by step instruction leaflet. If your hair is thick or long you may want to use two packs.
Wash your hair a day or two before the application. This is the time when your scalp oil can build a protective barrier against being irritated from chemicals. Your hair should be dry and free or hair accessories. 
Find a comfy place to stand or sit in front of the mirror because you'll need to see what you're doing. Cover your shoulders with a gown or just use an old towel that you aren't afraid to stain. Don't forget to wear gloves as dyes contain chemicals that can burn your skin.
Squeeze the entire contents of the tube into the developer cream bottle. Screw the nozzle and make sure it's sealed tightly. Then give it a good old shake. Cut the tip of the application nozzle. You'll need to start the application right away when the mixture if fresh. 
Start applying the mix at the roots using one of the methods below. Use the application nozzle tip to work through hair to separate the hair section by section.

FIRST TIME BLONDE OR PREVIOUS COLOUR HAS COMPLETELY GROWN OUT
—> Spread and apply the remaining product all over, making sure the hair is completely saturated and leave to develop for a total of 45 minutes.

ROOT REGROWTH, REFRESH APPLICATION OR DAMAGED HAIR
—> Once the roots are saturated, massage and leave for 20 minutes. Apply the remaining cream throughout the lengths and ends of the hair making sure the hair is completely saturated and leave to develop for 15 minutes, making the total time 45 minutes from the start to the finish.
Start the timer before you apply the colour. We've noticed that our customers are over-processing the colour which leads to poor results. This is because they start the timing process when they finished applying the colour, rather when they start.
Keep the gloves on and rinse your hair with warm water, until water runs clear. Use colour safe shampoo, the one that's labelled as "sulfate-free". Don't worry about applying the conditioner – Smart Blonde+plex already contains conditioning ingredients.
Dry your hair with a towel, then you can use a hairdryer and style your hair as desired. 
So there you go! Your lustrous blonde hair is ready, all done by yourself. Stronger and softer than before, with added brightness and gloss. All of this is provided by a single Smart Blonde+Plex colouring pack at the comfort of your own home. Buy now on special offer and experience the difference.